Public Overlook and Walkway
Next to Eglantina condominium is a public overlook and walkway. Efren Bruciaga, with the support of the State of Oaxaca, built the overlook in 1992. He wanted to make the spectacular views from his property accessible to all the people in Puerto Escondido. The overlook is between Zaachila and Eglantina.

Stairs lead from the overlook to the ocean below

Look carefully at the cliffs below Eglantina
Set in the cliffs is a spectacular 1600 meter(1.6 km, or 1.0 mile) walkway connecting the overlook to Puerto Escondido's main town area and beaches. (There are about 575 steps along the walkway). It took Efren Bruciaga and 200 workers three months to build the walkway. Efren had seen a similar walkway in Monte Carlo, and knew he could build one in Puerto Escondido. In his initial discussions with the State of Oaxaca, they called his idea "imposible". The plaque on a stone pedestal on the overlook reads: "Un Sueño Posible", loosely translated: "Anything is Possible".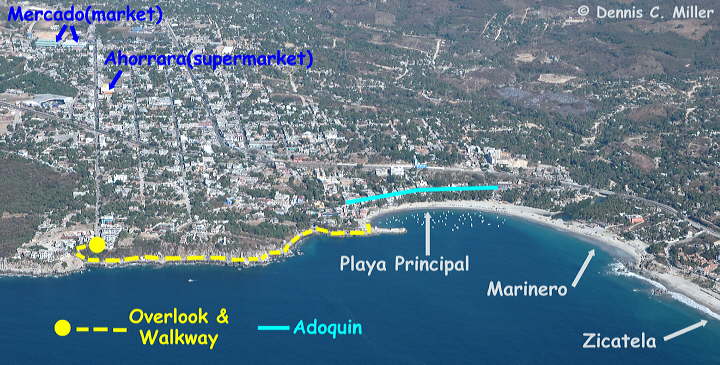 (This aerial picture is © Dennis C. Miller and may not be used on another web site without permission)